| | |
| --- | --- |
| Voltage | 1.5V |
| Capacity | 1800mAh (It can make the batteries pack . like 3.0V or 4.5V) |
| Charge voltage | 1.65V |
| Charge end voltage | 1.7V  |
| Storage method | 25 degree±2 |
| Stroage life | 3 years |
| Height | 49.2-50.5mm |
| Diameter | 13.5-14.5mm |
| Use conditons Temp | -20 degree to 60 degree |
1. High capacity 1.5V rechargeable battery;
2. Extra long shelf life: 36 months; only 5% lower self discharge every year;
3. 200 cycles (it will use the alkaline battery charger)
4. Environment friendly; it can pass the ROHS and REACH certificate;
5. The LONEST PRICE ; only 15% of the NIMH battery's price;
6. It can use in the lamp charged by the solar energy; It is well used in the head lamp; 
7.We can make the battereis pack for you according your product's requirment and we also can design the batteries pack for you.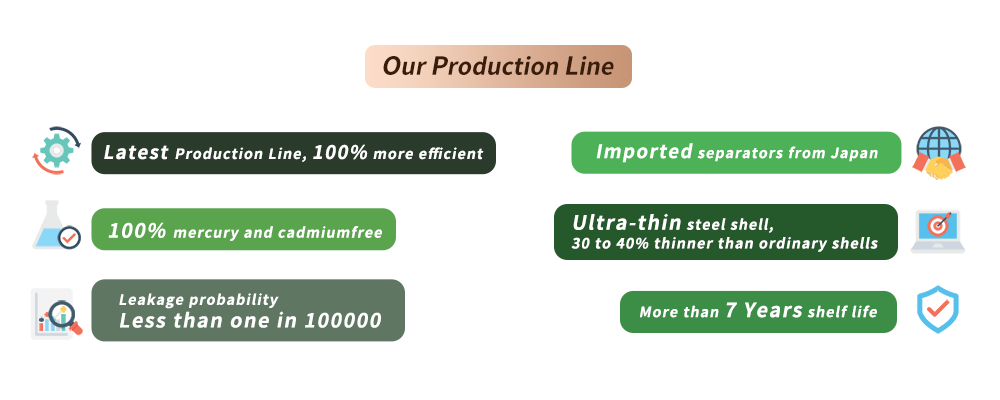 1. High speed production lines with the experienced workers.
2. The factory have the research and design the new product for you.
3. Our product complied The Eu certificate requirments like 2006/56/EC and 2013/56/EU.
4. The sales alll are professsional. we can provide 24*8 online.
1. May I know your delivery time:
Our deliery time it is 25-35days, the most according your quantity;
2.May I Know your capcity of the AA and AAA?
AA capacity:1800mAh ; AAA: 700mAh
3.May I know the address and do your factory by the other famous factory audit?
Welcome to visit our factory, Our factory located in Yuyao Ningbo. The factory by audit so many famous company like cotton on ... and We have passed BSCI ;